The ProFeds case study series helps you tackle specific challenges you may often encounter when working with federal clients.  They also help you capture missed opportunities and steer you from making common mistakes.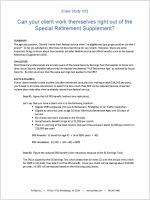 New case studies are posted frequently, and announced in your ProFeds member email newsletter.
Here are a few sample case study topics currently available to members:
How Does the FLTCIP Stack Up To Its Commercial LTC Counterparts?
Find ways to outdo the FLTCIP product and offer your clients products that best serve their needs.
Can Your Clients Work Themselves Right Out of the Special Retirement Supplement?
If your FERS client thinks they'll clean up by drawing the Special Retirement Supplement and getting another job in retirement, Uncle Sam says "not so fast."
Unused Sick Leave Sweetens the CSRS Annuity in Retirement
When it comes to unused sick leave at the end of a career, the CSRS employees sure do get the better end of the deal.  Find out why.
Special Considerations for Military Retirees
Under both CSRS and FERS, military retirees may get credit for their military service towards federal retirement. Is there a catch?
It Is Possible for FERS Employees to Max the TSP and Still Leave Money on the Table
Many don't think it is possible that a FERS employee can contribute $16,500 per year, but still miss agency contributions. See how.
Determining the Pay That Is Included in the High-3
Using the right type of pay in determining the "high-3" for a client is an essential part to calculating their annuity correctly. Learn the shortcut to double check that you are using the right numbers
The Powerful Impact of FERS Employees Waiting Until Age 62 to Retire
Under FERS, the rewards for continuing to work until age 62 are quite significant. Learn how your clients can be affected by holding out for a few more years to retire.