Help your clients to better understand their current situation, and paint a clear picture of what the future holds.   Some of our most popular tools are the tailored federal fact finders, and the risk assessment and insurance needs assessment worksheets.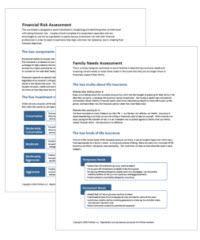 Fact Finders, Fact Sheets and Assessment Tools:
Federal Fact Finders
Download the latest Federal Fact Finder which is applied to produce benefits analysis reports from our advanced, proprietary software program.  ProFeds members are the only people to have access to these reports, so you now have a very unique offer to federal employees in your area that no other planner has.
Fact Sheets: Compare and Contrast Government Insurance Programs with Commercial Alternatives
Download these one-page fact sheets that compare and contrast the government insurance programs with commercial alternatives.
Financial Risk Assessment
Download this simple financial risk assessment worksheet to assist you in identifying your client's feelings about risk.
Family Needs Assessment
Download this simple insurance needs assessment worksheet to assist you in having a meaningful and relevant conversation with your clients about the importance of life insurance.