As a ProFeds member, you get access to an array of tools that will help you attract new clients by engaging with the federal representatives in your community.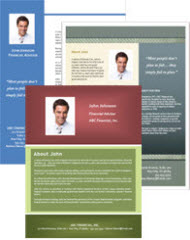 Some of these tools include:
Letter of Introduction to Local Federal Agency Representatives
This is a sample letter that financial professionals may use to introduce themselves to human resources representatives at local federal agencies.
Script for Introducing Yourself in a Workshop Setting
A helpful list of talking points to use when introducing yourself at a ProFeds Federal Retirement Impact Workshop.
Script for Making the Offer for Workshop Attendees to Meet with You
A guideline on how to offer to meet with federal employees who attend a workshop and wish to develop a Federal Retirement Impact Report.
Sample Federal Retirement Impact Report
Use this sample Federal Retirement Impact Report for your workshop attendees to view, or as a sample to use in your office.
Professional Bio Templates
Using one of these professional bio templates in a workshop setting is a great way to let the attendees learn a little about you, your family, and the unique ways you help federal employees.